The Tent Project
Years ago I made my own tent out of yards and yards of coated nylon, no-see-um netting, and one long set of shock cord tent poles.
My partner and I used it on a 6-month self-contained bicycle trip around New Zealand, Australia, and the United States and it held up great!
These images were taken with a digital Canon Rebel ... of the original slides ... projected onto a relatively smooth wall ;)
Above: tent with rainfly in Queensland, one of the wettest and most gorgeous places on earth.
I didn't want to spend $300 at that time for a tent that I wasn't excited about. So I spent $125 for all the materials and made the tent I wanted.
This one gave him enough room to lie flat in the middle, for me to have enough room on one side, and the other side for us to pack our goods out of the rain and critters overnight.
I gave it a rainfly to die for, coverage extending a foot away from the tent. Kept our outdoor stuff dry even in the worst rains, which we did see (23 inches in 24 hours near Franz Josef Glacier in New Zealand).
Above: tent without rainfly in the Arizona desert.
People often ask me what kind of thread I used. You know, I've never had a problem with thread wearing out. Now, if you're sewing sails or parachutes that have to sustain tough stresses and/or heavy winds AND saltwater 24/7, you may have different forces to reckon with. But I used this tent everyday for 6 months straight and then hundreds, maybe a thousand times afterwards and after 20 years the most wear I've seen is the coating coming off the nylon. Ok, and once a little rodent ate through a little spot in the bottom.
One interesting olfactory note: after 20 years, this tent started smelling like I'd pitched it in the dog park after they had a "no-pick-up-required" day (which I don't think they have but blech that smell...). Turns out I found a piece of this material that I had cut away and saved during the making of the tent. This was a remnant that I kept packed away for years in my fabric stash. And guess what ... it smelled just as bad. I was relieved although the tent is still hard to be around. I may just get some new nylon and sew it in place and cut the old stuff out. Voila! Brand new tent!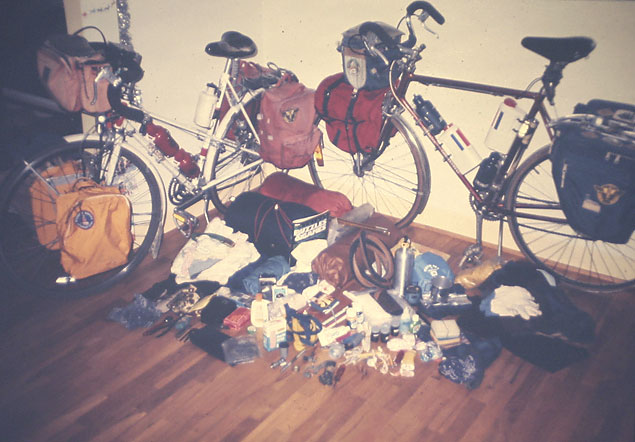 Above: Everything we started with. The tent is under the spare tires curled up small in the center of the image above. It weighed about 7 lbs including poles and stakes.
I made my own front panniers (above) and back ones (below), which I still use today.