usb crochet hook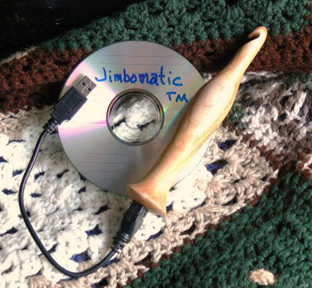 plug this usb crochet hook into your computer and it'll build the pattern of what you're making as you crochet! what an idea!
thanks, The Crochet Dude, for the twittered link! and thanks, Jimbo the inventor, for the idea!
next release will allow you to connect different sized hooks. you'll also be able to point the end of the usb cable to the person or object you're making the item for and it will magnetically be drawn to the correct sized hook for use with the yarn or thread you've wrapped around it.
optionally you'll be able to turn on a siren that will sound when your stitches are becoming out of gauge. you can of course replace the siren with a download of your favorite music and simply enjoy crocheting out of gauge.
April 2009