eucharist chandelier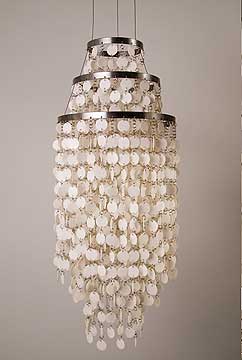 I keep crossing paths with this lovely piece. even though I do post a lot of pieces about sex and genitalia, beneath it all I'm moved to address issues we have a tough time talking about - to make them less fermenty, to shed some light on them so they stop smellin' so bad. and if I can do that with humor, hey, I am so there.
it just so happens that sex is rife with taboos. but so is religion although it doesn't seem to provide as many opportunities to be quite so funny about it.
while this piece is not funny, it is beautiful and wholly captivating. just how did Jocelyn Foye obtain all those eucharists? were they blessed beforehand? could they be a homemade substitute? any lightning bolts if you try that at home? are they the thinner airy ones that dissolve in short order in your mouth or are they the more substantial ones that would make do as a snack? that was one of the big differences I noticed between my Catholic upbringing during the early years and my Baptist explorations in high school. the Catholic eucharist tasted just like those penny candies made up of two concave wafers joined around the edges like a spaceship with little hard candies inside. you could eat those all day and never notice. the Baptist ones tasted like a sweet meal. three more and I'd be full.
I saw this piece in the flesh at Works/San Jose in 2006. I loved staring at it, imagining someone sitting at a worktable with a Dremel tool drilling hole after hole, maybe with a friend attaching c-rings with pliers in a little production line. I also liked it because it was probably getting someone's eucharistic goat. and it is delicately gorgeous.
May 2009